4th STOCKHOLM INTERNATIONAL QUEER TANGO FESTIVAL
Musicality & Roles in Motion
14-16th May 2010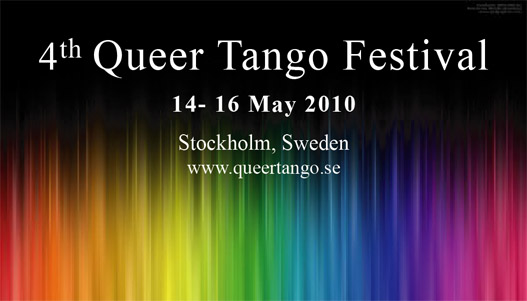 Try your first steps of tango at the festival!


* Workshops for all levels, also beginners!
* Practicas
* Milongas
* Teachers Exchange
* Workshop Packages
* Drop-in Workshops
* Performances
* Seminars
* Pre-Festival Practica Q 13 May


Artists, instructors and DJs
Gonzalo Alonso (Buenos Aires)
Jorge Arbert (Argentina/Netherlands)
Sabine Berge (Stockholm)
Karo La Chica Stege (Belgium)
Pino Dangiola (Stockholm)
Claudia Mai (Germany)
Adriana Pegorer (United Kingdom)
Ilja Rathgen (Switzerland)
Charlotte Rivero (Stockholm)
Mariel Robles (Buenos Aires)
Martin Schick (Germany)


Teachers Exchange
The festival invites queer tango teachers with
experience and with ongoing regular queer tango courses to apply for teachers exchange seminars. The festival offers a space and free participation for this and free entrance to the milongas. The teachers are also offered to teach a drop in lesson to get the opportunity to teach and share their queer tango teaching ideas. (Application closed)

>>Subscribe to Festival Newsletter


QUEER TEACHING PHILOSPHY


Queer tango teaching gives you the possibility to play with dance roles without being forced into one role because of your sex. Queer teaching gives you the freedom of choice and is challenging the heteronormative structures which are preserving traditional thinking and practice about gender and sexuality. No partner needed. We give the possibility to change roles and partners during workshops. If you prefer to dance one role try to find a partner (if you cannot find one, please ask us to help you). It is also possible to only dance with your regular partner.








In cooperation with ABF
© Charlotte Rivero
Information on this side may be subject of changes