The 2nd International Stockholm QueerTangoFestival is organized by Tangoverkstan, the queertango school in Stockholm, founded by Charlotte Rivero.
If you cannot register through this website >>click here or scroll down.
Charlotte Rivero
E-mail: tangoverkstan@yahoo.com
Cell: +46 73 770 25 15
**********************************************************************
Tangoverkstan has weekly queertango events in Stockholm and also in other cities in Sweden. For detailed info look at www.tangoportalen.com/tangoverkstan?xref=tangoverkstan
Mondays 18-19.30 Intermediate workshop
Tuesdays 20-22 Intermediate/advanced practice group
Saturdays 15-18 Practica
Sundays 14-15.30 Beginners workshop
Sundays 15.30-17.30 Practica
Sundays 17.30-19 Advanced beginners
The workshops take place at Frejgatan 41
NB All workshops of the festival take place at Skeppsholmsgården, Slupskjulsv 12 Look at venues.
**********************************************************************

Signing up for the Queer Tango Festival
(if you have problems with this website)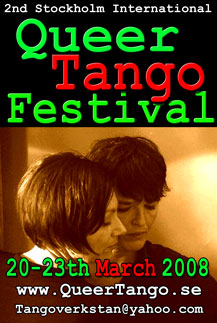 Send an e-mail to tangoverkstan@yahoo.com specifying name, address, phone and which package you like to participate in.

Please,make a payment to Tangoverkstan, Polhemsgatan 28, 112 30 Stockholm, Sweden:

SEB (Skandinaviska Enskilda Banken) 5366 -10 028 72,
IBAN: SE 5750000000053661002872, BIC- CODE: ESSESESS

NB: Your registration is not valid before payment in swedish krona SEK is done. All costs of money transfers and exchange costs should be paid by the participant. Send an e-mail to tangoverkstan@yahoo.com telling that payment is done. Be sure to write your name and address on the payment transfer and what you like to participate in.
Tango dancers living in Sweden please, pay via Bankgiro
Tangoverkstan 5403-9557.

Signing-up is binding and payment is non-refundable. In case of a acute disease 60% of the payment is refundable only with a valid certificate from a medical doctor (stating that it is impossible to particiapte due to the disease).